Pleasanton, CA Economic Overview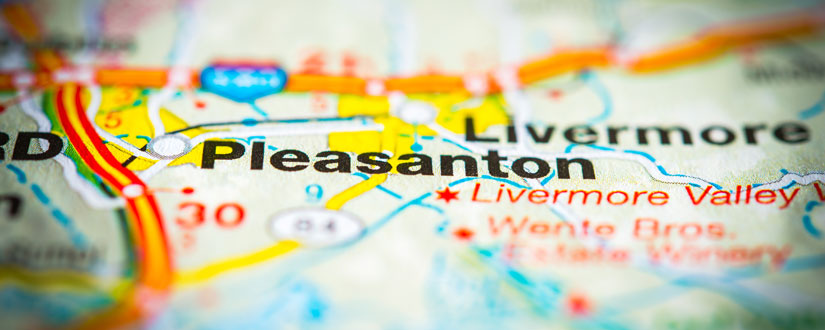 Pleasanton is a suburban city in the San Francisco East Bay Area, part of Alameda County located about 25 miles east of Oakland and 6 miles west of Livermore. An affluent city, Pleasanton is home to just over 70,000 residents and was ranked the wealthiest middle-sized city in the United States by the Census Bureau. Pleasanton is home to many well-known technology company headquarters, such as Workday, Ellie Mae, Roche Molecular Diagnostics, and Veeva Systems. Pleasanton lives up to its name as a highly desirable city, ranked number four by USA Today in its 2014 "America's 50 best cities to live in" listing and one of "America's Top Hometown Spots" in the U.S. in 2009 by Forbes. Pleasanton's highly educated population and workforce reflect a community that values education and actively supports a preeminent school system which ranks among the Top 10 in California. The Pleasanton commercial real estate is supported by a thriving business community of more than 4,000 companies, from Fortune 500 to home-grown innovation firms.
Pleasanton experienced a major economic boom starting in the early 1980s, largely associated with the development of a number of business parks that attracted corporate headquarters, such as those of Safeway, Blackhawk Network Holdings, Workday, Simpson Manufacturing, The Cooper Companies, Shaklee and Patelco Credit Union. Oracle occupies two buildings of the former PeopleSoft campus, and is the fourth-largest employer in Pleasanton, behind Workday, Safeway and Kaiser Permanente. In addition, Pleasanton is the site of a large AT&T campus. In a recent survey, 91 percent of business executives reported that Pleasanton was a good or excellent location for doing business. Pleasanton is also known for its lively downtown, which is home to a number of fine-dining, casual, and ethnic restaurants, specialty retailers, and service businesses. Considered by the Census Bureau as the wealthiest midsize city in the nation, the median household income in Pleasanton is $124,759.
Pleasanton, CA Commercial Real Estate Market
Located at the junction of I-580 and I-680, Pleasanton is proximate to the major business markets of Silicon Valley, San Francisco, and the Central Valley. Pleasanton hosts a number of large business parks, the largest of which is the Hacienda Business Park, which boasts 850 acres of versatile space and wired infrastructure. These also include a number of campus-like clusters of low-rise and medium-rise office buildings. Business sectors range from software to biotechnology to professional services in more than 15 million square feet of office and industrial space, well above other surrounding suburbs in the Tri-Valley area. Compared to the rest of the East Bay market, the Pleasanton submarket has less expensive rates in the three main submarkets of Downtown Pleasanton, Happy Valley and Mission Park, of which only Downtown Pleasanton currently has developed office space.
Downtown Pleasanton is the heart of a vibrant and dynamic city with a rich history and commitment to a high quality of life. The Downtown Pleasanton office market is occupied by over 550 diverse businesses and one of a kind shops.
Pleasanton, CA Office Rental Rates ($/SF/year)
Data provided by Yardi Matrix, for properties larger than 50K SF.
Pleasanton, CA Office Sales
Data provided by Yardi Matrix, for properties larger than 50K SF, which sold at over $5M.
Pleasanton, CA Commercial Inventory Breakdown
Office Spaces
Total: 10,393,367 SF
By square footage range:
50k to 100k SF: 2,324,589 SF / 22.37% of total office
100k to 500k SF: 7,220,007 SF / 69.47% of total office
500k to 1M SF: 848,771 SF / 8.17% of total office
By class:
Class A: 2,898,931 SF / 27.89% of total office
Class B: 7,494,436 SF / 72.11% of total office
Employment in Pleasanton, CA
Pleasanton's commercial market is home to more than 4,000 businesses supporting 53,000 jobs and is marked by numerous economic strengths. These include strong employment growth with long term growth outpacing the Tri-Valley and East Bay, growing at 63% between 1995 and 2009. Pleasanton is a highly innovative economy featuring high-technology industry sectors that draw highly-educated workers and increasing amounts of entrepreneurial activity and venture capital investment. Within this labor force, Pleasanton has a concentration of early career workers between 25-34 years old who are important for a company's workforce recruitment and retention strategies.
According to the BLS, the industries in the San Francisco - Oakland - Fremont, CA area with the highest employment numbers include:
Professional and business services - currently employs 469,800, growing at a yearly rate of 0.4%;
Trade, Transportation, and Utilities - currently employs 375,000, growing at a yearly rate of 1.2%;
Education and health services - currently employs 349,200, growing at a yearly rate of 2.9%.
Education in Pleasanton, CA
Well educated and skilled talent is a hallmark of Pleasanton with 56% of the residents having a bachelor's or advanced degree.
Pleasanton's two comprehensive high schools, Amador Valley and Foothill, are ranked by Newsweek among the top 400 high schools in the nation. There are a number of private schools in Pleasanton, including Stratford School and Hacienda School.
Commuting Time in Pleasanton, CA
One of Pleasanton's key attributes is its location in the Bay Area. Pleasanton is fortunate to be served by numerous public transportation agencies that help residents and employees get to their work or home destination whether it is in Pleasanton or miles away. Pleasanton is situated at the crossroads of two major Interstate Highways, I-580 and I-680. Linking the workforce to the region are two BART stations, the Altamont Corridor Express commuter train and regional bus service. The City of Pleasanton also encourages residents and employees to consider bicycling as a viable commute alternative.
Employees in Pleasanton have a longer average commute time of 29.4 minutes than the national average of 24.8 minutes. The largest share of workers in Pleasanton drove alone to work in 2015, followed by those who used public transit and carpooled.
Pleasanton Demographics
Population
Total Population61,307
Male Population(49.0 %) 30,038
Female Population(51.0 %) 31,269
Median Age41.00
Income/Financial
Average Household Income$149,958
Median Household Income$125,464
Median Income Under 25$92,644
Median Income 25-44$131,234
Median Income 45-64$149,239
Median Income Over 65$64,693
News
Top 100 US Property Taxes in 2017
May 29, 2018
With the 2018 tax filing season now behind us, we decided to follow up on our previous list of top 100 property taxes in the U.S. We once again turned to public record sources, aiming to see if any year-over-year difference in taxes tipped the scales for some of the properties included in our pr...
California Q1 2018 Office Sales: Smaller Markets Pick Up the Slack for LA, San Francisco
April 18, 2018
In terms of office sales, Los Angeles was the most active California market we analyzed, wrapping up Q1 with a $1.3 billion total. Bay Area office sales raked in $800 million in 13 transactions, which encompassed over 2 million square feet of inventory. Even though Sacramento came in third, this...
SendGrid Triples Orange County Office Footprint
March 30, 2018
Digital communication platform SendGrid is set to triple its footprint in Orange County, Calif., by relocating its local offices to the heart of the region's fast-growing technology hub at 400 Spectrum Center Drive in Irvine, Calif.
CommercialCafé is your first and only stop when it comes to commercial real estate leasings in Pleasanton, CA. Search through our extensive selection of commercial properties for lease with current space availability in the area ranging between 1909 square feet and 148902 square feet. Discover the right property from our 352 listings by using our advanced search function, which includes search by property type, space availability, management company, lease rates, and more.