Alameda, CA Economic Overview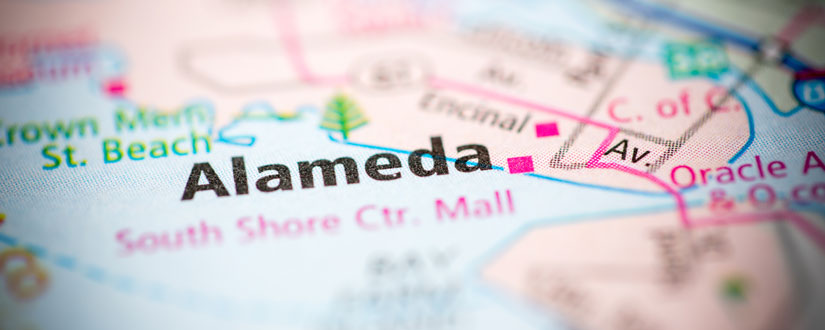 Alameda is a small 10.4 square mile city located on Alameda Island and Bay Farm Island. Equidistant between Oakland and downtown San Francisco, Alameda is home to over 76,000 wealthy and highly educated residents. Despite its small size the city boasts an amazingly diverse variety of large corporations, growing technology businesses, retailers, regional and community shopping centers, and two business parks with millions of square feet of industrial flex, office, and laboratory space. The municipality's business-friendly attitude combined with its attractive way of life draw businesses and residents alike, and contribute to the vibrancy of the commercial real estate market in Alameda.
In addition to the traditional office and retail users, the stable, diversified economy of Alameda is driven by five major industry groups: Computer Software, Alternative Energy, Healthcare and Biotechnology, Maritime Services, and Specialty Beverage and Food Production.
With a median household income of over $73,000 per year and an average household income of over $97,000 per year, incomes here are higher than the U.S., the State of California, Alameda County, and nearly as high as the entire San Francisco-Oakland-Hayward metropolitan statistical area. With an income growth of nearly 4% last year, the economy in Alameda is expected to remain strong as business and industry take advantage of operating costs that are nearly 30% less than the Bay Area cities surrounding Alameda.
Alameda, CA Commercial Real Estate Market
The continued growth of the commercial real estate market in Alameda is driven by the area's unmatched location in the San Francisco Bay Area, lower operating costs for business, available space, a multi-faceted transportation system, and the business-friendly nature of the municipality. The City works with both the College of Alameda and the County of Alameda's Workforce Investment Board to prescreen, interview and refer qualified job applicants to local businesses, and also offers customized training and apprenticeship programs, all at no charge.
Local business and industry also benefit from the vast array of Alameda's economic development incentives and resources such as Industrial Development Bonds, Business Assistance Programs, Foreign Trade Zone, State Community Infrastructure Programs, Targeted Tax Abatements, Electricity Discounts, and Customized Recruitment & Training Programs.
Alameda Point is one example of Alameda working proactively with developers and business. This 878-acre project is a mixed-use development of commercial, residential and corporate campus product. There is ample industrial and warehouse space immediately on the Bay, along with land zoned for maritime use. Part of the project encompasses a 291,000-square-foot lifestyle retail center, along with 275 new homes.
Asking rents for office space in Alameda have gradually increased over the past few years, with vacancies remaining tight despite new development projects coming to market. With relatively more affordable commercial lease rates on the office, research & development, and commercial space in Alameda, traditional users plus those in the software, green energy, biotech, maritime services, and specialty beverage and food production are all increasingly relocating from more expensive locations and calling the city home.
Alameda, CA Office Sales Volume
Data provided by Yardi Matrix, for properties larger than 50K SF, which sold at over $5M.
Alameda, CA Office Transactions
Data provided by Yardi Matrix, for properties larger than 50K SF, which sold at over $5M.
Alameda, CA Commercial Inventory Breakdown
Office Spaces
Total: 2,686,829 SF
By square footage range:
50k to 100k SF: 871,632 SF / 32.44% of total office
100k to 500k SF: 782,178 SF / 29.11% of total office
&gt 1M SF: 1,033,019 SF / 38.45% of total office
By class:
Class A: 1,033,019 SF / 38.45% of total office
Class B: 1,557,810 SF / 57.98% of total office
Employment in Alameda, CA
Job growth in Alameda has increased by over 3%, with an unemployment rate of just under 4%. Over 56% of the workforce in Alameda is employed in the areas of management, business & financial services, arts & recreation, computer & mathematics, architecture & engineering, administration, and sales. The largest private-sector employers in Alameda are VF Outdoor, which manufactures North Face and Jansport apparel; Penumbra, Inc. which manufactures medical devices; Perforce Software; Bay Ship & Yacht; and the biotechnology company of Celera Corporation.
Other notable employers, along with the public-sector, include the Alameda Unified School District, Alameda Hospital, the Oakland Raiders football organization, the City of Alameda, Abbott Diabetes Care, Wind River Systems, and Kaiser Foundation Health Plan.
Education in Alameda, CA
The Alameda Unified School District operates the public primary and secondary school system in the city. There are several private primary schools and one private high school. Alameda is widely admired for its high-quality public school system, many of which have top rankings in the State of California and the Bay Area.
Over 47% of the residents in Alameda have a bachelor's degree or higher, making it one of the most well-educated cities in the state. University and college students in Alameda have easy access to many of California's most prestigious post-secondary schools, including the local College of Alameda, Cal Berkeley, UC San Francisco, and Stanford University.
Commuting Time in Alameda, CA
Commuters in the San Francisco Bay Area face some of the worst work day commutes in the entire country, and that includes drivers in Alameda. With an average commute time in Alameda of nearly 29 minutes and nearly 3% of the work force having a super commute of 90 minutes or more, it's no wonder that almost 26% of the commuters here either carpool or use some type of public transit.
What Alameda lacks in speedy commutes it more than makes up for by way of integrated, transportation options:
Alameda is just minutes off Interstate 880 to Oakland.;
Three bridges and two street-tubes connect the island to Oakland and the rest of the mainland.;
BART (Bay Area Rapid Transit) provides shuttle service and two ferry systems with direct access to both the Oakland and San Francisco embarcaderos.;
Express trans-bay bus service to and from San Francisco is operated by AC Transit;
Oakland International Airport, San Francisco International Airport, and San Jose Airport are all within a one hour drive of Alameda.
Alameda Demographics
Population
Total Population76,733
Male Population(48.5 %) 37,208
Female Population(51.5 %) 39,525
Median Age40.70
Income/Financial
Average Household Income$108,460
Median Household Income$79,312
Median Income Under 25$32,750
Median Income 25-44$86,285
Median Income 45-64$93,691
Median Income Over 65$54,217
News
8 Coworking Spots in Oakland You Need to Check Out Now
July 19, 2018
Working remotely instead of going to the same physical office every day has become an increasingly popular option in the U.S. The West Coast especially has adapted well to this tendency, providing numerous shared office spaces to the many startup businesses, accelerator programs, freelance creat...
The transactions that closed across the seven California office markets we analyzed totaled nearly $5 billion in sales. The quarter marked a 36% increase compared to Q1, however, the sales volume dropped 12% year-over-year.
Top 100 US Property Taxes in 2017
May 29, 2018
At first glance, the list does not look all that different. The 100 top taxpaying properties in 2017 are scattered across the same nine states, and not much has changed with respect to the overwhelming New York presence in the mix—78 of the top 100 U.S. taxes are for properties located in New Yo...
CommercialCafé is your first and only stop when it comes to commercial real estate leasings in Alameda, CA. Search through our extensive selection of commercial properties for lease with current space availability in the area ranging between 17047 square feet and 98647 square feet. Discover the right property from our 169 listings by using our advanced search function, which includes search by property type, space availability, management company, lease rates, and more.